Family Friendly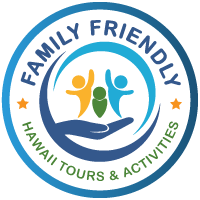 Address
378 Aliiolani St., Pukalani, HI 96768
When it comes to visiting Hawaii with the kids, there are countless ways to experience this incredible place together from young families to large groups of aunties, uncles, and cousins.
There are plenty of tours and activities across Hawaii that all ages can enjoy together. Our family-friendly tour choices are for those who have children from about 7-8 to young adults.
On your next trip, consider taking a tour of one of the many Hawaii cultural, historical or scenic sites that offer something for all ages.
Parents and kids will both enjoy exploring a real Polynesian village, followed by a sunset luau at the Polynesian Cultural Center. You can also travel back in time by taking a history tour of Pearl Harbor or explore Hawaii's underwater world on a submarine.
If you're looking for an Indiana-Jones style adventure, then ziplining is not to be missed. From National Parks to luscious tropical rainforests and breathtaking helicopter sightseeing – the fun is endless.
We can help you customize a trip for your group. Take a look at our Family Friendly experiences and activities below.